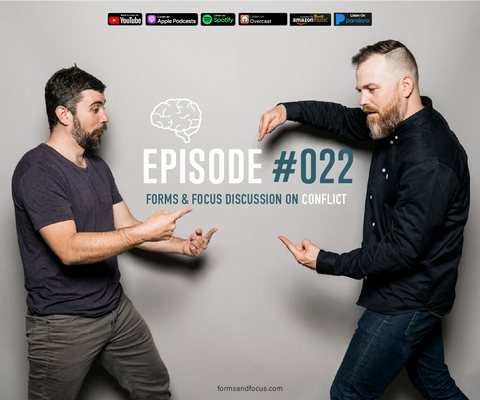 #22 Forms and Focus Discussion on Conflict
FIGHT, FLIGHT, OR FOCUS
Conflict is around us, conflict is within us, and conflict can keep us from focusing on our dreams.
There are several types of conflict, but what we are most familiar with is what we experience on a micro level, a terrible coworker, a bully at school, or shitty family members. But another form of conflict that we are greatly influenced by is on a macro level, global conflict, our culture of conflict, our consumption of charged content and the conflict within. 
On today's episode of the Forms and Focus Podcast (EPISODE #022), we are discussing focus and conflict. And what you can do TODAY to work through conflict, increase your focus on long-term goals, and accomplish your dreams. Let's dig in… 
0:00 - Intro to conflict
1:02 - Podcast Intro
1:34 - Problem - Conflict is killing your focus.
11:40 - Solution/Habits for better focus.

LISTEN TO EPISODE
WATCH EPISODE
SHOW NOTES FOR EPISODE #21
PROBLEM WITH CONFLICT AND FOCUS
CONFLICT IS EVERYWHERE
ADULTS IN WORKPLACE: 
According to a study commissioned by CPP Inc., 85% of U.S. employees deal with conflict. (Hayes)
A 2007 Zogby survey reported that 37% of workers have been bullied at work. (Namie)
STUDENTS IN SCHOOL
: According to National Center for Educational Statistics:
2019, 20.2% of students report being bullied.
41% of students who reported being bullied at school indicated that they think the bullying would happen again.
The reasons for being bullied reported most often by students include physical appearance, race/ethnicity, gender, disability, religion, sexual orientation.
PEOPLE ARE ANGRY:
According to the latest NPR-IBM Watson Health poll of 3,004 people, 84% of people surveyed said Americans are angrier today compared with a generation ago. (Jonides and Nee)
A Gallup poll conducted in 2018 found 22% of Americans had felt anger the previous day, up from 17% from the previous year. (Chang)
"We're living, in effect, in a big anger incubator," said Raymond Novaco, a psychology professor at the University of California at Irvine. (Chang)
 THE BRAIN UNDER CONFLICT (Article by Bina Patel PhD, Conflict Resolution and Organizational Health Specialist)
We are pushed into fight or flight and our emotions sit at the surface. This reaction happens in the amygdala. Our brain cortisol levels release instantaneously. Anger builds up quickly while blood rushes to the brain. 
Research has discovered that a message received in the thalamus is transferred directly to the amygdala, without routing through the cortex, causing a rapid reaction of brain's natural system. The thalamus gland in our brain receives the emotional stimuli from a message. 
The initial sting is felt and reaction results in the amygdala. The amygdala is hijacked, forcing us to become disoriented in a heated event. In the heat of the conflict, our neural pathways, located at the prefrontal cortex, shuts down immediately.
Both the brain and body are experiencing multiple emotions including anger, fear, hurt, disappointment, and many others. At this moment people excuse their feelings/reactions by blaming others, pointing fingers, while being angry at themselves for how they reacted. 
THE STORY THREE SHREWS

Gowin 2011, Scientists have studied conflict in tree shrews, a small mammal, closely related to primates, that spends much of its time defending its territory. In the lab, when two tree shrews are put in the same cage, they fight to establish dominance. If a clear plastic wall is then placed in the cage to divide them, the mere sight of the dominant shrew is enough to stress the subordinate, persistently elevating its heart rate and cortisol levels. Its arteries deteriorate, its circadian rhythm is disrupted and many subordinates die within two weeks. They literally "worry to death." (Gowin)
WE ARE IN A CONFLICT ECHO CHAMBER
We are often unwilling and even unknowing recipients of

Displacement Aggression

. 

(Levine et al., 1988) Found, one of the most effective buffers of stress is for the rat to be able to bite another individual.
Such displacement aggression is a reliable stress reducer across the animal kingdom. Among baboons, for example, about half of aggression is displacement aggression, and for the same dominance rank, the more a baboon tends to displace aggression after losing a fight, the lower his cortisol levels (Sapolsky and Ray, 1989). 
The increase in rates of spousal and child abuse during times of economic stress is but one example of stress-induced displacement aggression in humans.

Think about this in the context of our culture and environment.

If we consume negative and combative content (news and social), or we are constantly in proximity to conflict, we can easily mirror those emotions and feel the same way. This is caused by our Mirror Neurons. 

Mirror Neurons

are a brain cell that reacts both when a particular action is performed and when it is only observed. First described in the 1990s, about 10% of the premotor neurons that would activate when one is about to make Movement X activate as well when observing someone else doing Movement X (Rizzolatti et al., 1996).
CONFLICT IS MORE THAN THE PRESENT
Transference is a psychological phenomenon in which conversational or relational partners activate earlier memories. As a result, we may unconsciously repeat conflicts from the past that have nothing to do with the current relationship. These kinds of knee-jerk responses occur in the brain due to the brain's propensity to make non-conscious predictions based on early life experiences. We are usually not aware of them. (Pillay)
Before we move to the solution, let's talk about Oxytocin. Oxytocin is the hormone, secreted from the pituitary gland, that is responsible for mother-infant bonding among mammals. From Donaldson and Young, 2008, oxytocin mediates the formation and maintenance of pair bonds.  (Molenberghs and Louis)
The GOOD: From (Meyer-Lindenberg et al., 2011)., Oxytocin promotes pro-social behavior in a variety of ways. In both laboratory experiments and naturalistic settings, it makes people more trusting, forgiving, empathic and charitable. It improves the accuracy of reading people's emotions. It also makes people more responsive to social cues and social feedback. (Molenberghs and Louis)
The BAD: From (De Dreu, 2012)Recent work has shown that oxytocin does indeed promote prosocial behavior, but crucially, only toward in-group members. In contrast, when dealing with out-group members or strangers, oxytocin's effects are the opposite.
In such settings, the hormone decreases trust, and enhances envy and gloating for the successes and failures, respectively, of the out-group member. Moreover, the hormone makes people more preemptively aggressive to out-group members, and enhances unconscious biases toward them. (Molenberghs and Louis).
WHAT MODERN CONFLICT RESPONSE LOOKS LIKE:
You are not in the wrong: Fight or Flight
You are in the wrong: Justify or Pacify 
SOLUTION FOR WHEN FACED WITH PERSONAL CONFLICT
STEP ONE:

Acknowledge Your Emotions: I feel really frustrated, angry, hurt, attacked, pissed, surprised, ashamed, embarrassed. 
Acknowledge Your Breath: Take long slow breaths in, old for a second, and breath everything you can out. 
Acknowledge Your Body: Call out what is happening in your body. My heart is racing, my hands are shaking, my face is warm, I am a little light headed. 
Acknowledge Your Value: You are intrinsically valuable as a human being. Regardless if you are an innocent bystander or the cause, you are still valued. 

STEP TWO:

Say, "I need a minute." Take a walk and change settings. Step 1 and 2 pulls you out of your amygdala and puts you back into your prefrontal cortex. Now you can operate from a place of strategic thought, empathy, presence and mindfulness. 

STEP THREE: Now you can work through the conflict. Either personally or with the person that you are interacting with. 
SOLUTION FOR WHEN FACED WITH CULTURAL CONFLICT
Reduce the consumption of charged content. 
Get away from toxic relationships. 
Practice mindfulness and meditate on the good. 
FIND US AT:
Podcast Available Everywhere
https://formsandfocus.com/
https://www.instagram.com/formsandfocus/
https://www.tiktok.com/@formsandfocus
#focus #dream #stress


WORKS CITED
Chang, Elizabeth. "Americans are living in a big 'anger incubator.' Experts have tips for regulating our rage." The Washington Post, 30 June 2020, https://www.washingtonpost.com/lifestyle/wellness/anger-control-protests-masks-coronavirus/2020/06/29/a1e882d0-b279-11ea-8758-bfd1d045525a_story.html. Accessed 29 March 2022.
Gowin, Joshua. "Under Pressure: Your Brain on Conflict." Psychology Today, 6 April 2011, https://www.psychologytoday.com/us/blog/you-illuminated/201104/under-pressure-your-brain-conflict. Accessed 29 March 2022.
Hayes, Jeff. "NEW STUDY DETAILS BOTH CRIPPLING AND BENEFICIAL EFFECTS OF WORKPLACE CONFLICT ON BUSINESSES." STUDY DETAILS EFFECTS OF WORKPLACE CONFLICT ON BUSINESSES, CPP, Inc., 6 October 2008, https://shop.themyersbriggs.com/PRESS/Workplace_Conflict_Study.aspx. Accessed 29 March 2022.
Jonides, John, and Derek Evan Nee. "Resolving conflict in mind and brain." American Psychological Association, May 2004, https://www.apa.org/science/about/psa/2004/05/jonides. Accessed 29 March 2022.
Molenberghs, Pascal, and Winnifred R. Louis. "Doubled-Edged Swords in the Biology of Conflict." Frontiers, 20 December 2018, https://www.frontiersin.org/articles/10.3389/fpsyg.2018.02625/full. Accessed 29 March 2022.
Namie, Gary. "US Workplace Bullying Survey September, 2007." Workplace Bullying Institute, September 2007, https://workplacebullying.org/multi/pdf/WBIsurvey2007.pdf. Accessed 29 March 2022.
Patel, Bina. "The Brain Under Conflict." Mediate.com, April 2020, https://www.mediate.com/articles/patel-brain-conflict.cfm#bio. Accessed 29 March 2022.
Pillay, Srini. "Brain science to improve your relationships." Harvard Health, 4 October 2018, https://www.health.harvard.edu/blog/brain-science-to-improve-your-relationships-2018100414922. Accessed 29 March 2022.