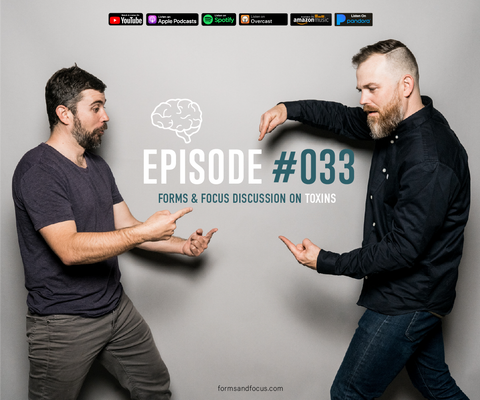 #33 Forms and Focus Discussion on Toxins
Unfortunately, toxins are everywhere and if you become obsessive about these toxins, you may die from anxiety. So let's take a look at a few examples of toxins, how they affect us and then some simple steps you can take today to reduce your toxicity and focus on your dreams. Let's dig in…
0:00 Intro to Toxins
0:31 Intro to Podcast
1:12 How Toxins Effects Focus
14:45 Solution to Increasing Creativity
LISTEN TO EPISODE
WATCH EPISODE
SHOW NOTES FROM EPISODE #33
Unfortunately, toxins are everywhere and if you become obsessive about these toxins, you may die from anxiety. So let's take a look at a few examples of toxins, how they affect us and then some simple steps you can take today to reduce your toxicity and focus on your dreams. Let's dig in… 
The Atlantic: THE TOXINS THAT THREATEN OUR BRAINS
In a 2012 paper published by the National Institutes of Health, Bellinger, a professor of neurology at Harvard, compared intelligence quotients among children whose mothers had been exposed to these neurotoxins while pregnant to those who had not. Bellinger calculates a total loss of 16.9M IQ points due to exposure to organophosphates, the most common pesticides used in agriculture.
Article in US Right to Know:

 

Chlorpyrifos (CPS)

 

insecticides were introduced by Dow Chemical in 1965 and have been used widely in agricultural settings. Chlorpyrifos is an organophosphate insecticide, used primarily to control foliage and soil-borne insect pests on a variety of food and feed crops.
(CPS)  is used on a wide variety of crops including apples, oranges, strawberries, corn, wheat, citrus and other foods families and their children eat daily. USDA's Pesticide Data Program found chlorpyrifos residue on citrus and melons even after being washed and peeled. By volume, chlorpyrifos is most used on corn and soybeans, with over a million pounds applied annually to each crop. The chemical is not allowed on organic crops. Non-agricultural uses include golf courses, turf, green houses, and utilities. 
Fluoride: According to CDC, "Fluoride is a mineral that occurs naturally and is released from rocks into the soil, water, and air. Almost all water contains some fluoride, but usually not enough to prevent tooth decay. Fluoride can also be added to drinking water supplies as a public health measure for reducing cavities."
"Fluoride is presumed to be a cognitive neurodevelopmental hazard to humans," concludes the US HHS's National Toxicology Program's monograph, Systematic Review of Fluoride Exposure and Neurodevelopmental and Cognitive Health Effects 
Polybrominated Diphenyl Ethers (PBDEs)
PBDE is used as a flame retardant in textiles, computers, furniture foam, plastics, electronics, automobiles, and construction materials.
The Atlantic: "California, at the urging of the chemical industry several years ago, put the highest standard in the world on the levels of PBDEs that needed to be included in them," Landrigan explained. "The result is that people in California have the highest levels of brominated flame retardants in their bodies."
The state finally banned PDBEs in 2006, after studies from Columbia showed high quantities of the compound in women's breast milk and linked it to IQ losses and shortening of attention span. Between 2008 and 2012, PDBE levels in the blood of California residents decreased by two-thirds.
What can we do?
Awareness is the first step. If it is made by man, it is probably bad. Which should be obvious since everyone hates men right now.
Look at what you put in and on your body. 
But get a jump start by limiting your intake. 

Purge your diet of toxins. 
Purge your house of toxins. 
 Where to Find Us
https://formsandfocus.com/
https://www.instagram.com/formsandfocus/ https://www.tiktok.com/@formsandfocus
#focus #podcast #toxins