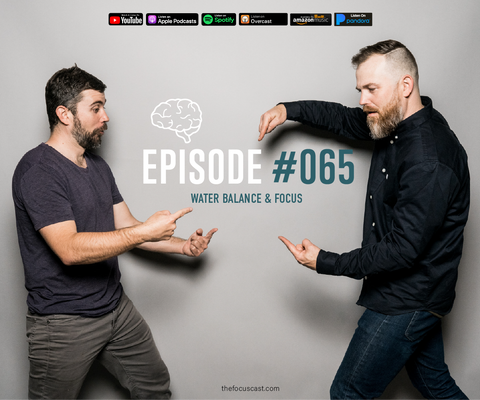 #65 Water Balance & Focus
00:39 Podcast Intro
01:10 Stats on Hydration / Cognitive Performance
08:00 Warren Buffet Loves Coke 
09:30 Market Cap of  Beverage Industries
14:00 Negatives of Energy Drinks   
17:00 Solutions If You Want to Drink More Water
18:30 Not All Water is Created Equal 
Watch: 
Listen: 

Welcome to the FocusCast, today we're talking about your body's water balance, hydration and cognitive performance. 75% of Americans are chronically dehydrated, which has a significant impact on your ability to focus. Today we break down and create some guides for your water balance and focus… let's dig in. 

 THE FACTS ABOUT WATER BALANCE & COGNITIVE PERFORMANCE
NCBI - Water balance is precisely regulated within the body and many methods exist for assessing hydration status. 
Cognitive performance measures an individual's attentiveness, critical thinking skills, and memory.
Traditionally a 2% or more body water deficit was thought to produce cognitive performance decrements; however, recent literature suggests that even mild dehydration – a body water loss of 1–2% – can impair cognitive performance.
Mayo Clinic, the average adult loses more than 80 ounces of water every day through sweating, breathing, and eliminating wastes. So one has to wonder if you drink less than 80 ounces a day, how is that impacting your brain function and overall health?
THE PROBLEM: HYDRATION EFFECT ON FOCUS
Article in PUBMed by the Council on Scientific Affairs, American Medical Association stated: 75% of Americans are chronically dehydrated. 
Brain & Spine Institute of North Houston, "70% of your body is composed of water. Nearly every body function you have is dependent on water."

The brain itself is made up of approximately 85% water
Studies show that you only need to be 1% dehydrated to experience a 5% decrease in cognitive function
A 2% decrease in brain hydration can result in short term memory loss and have trouble with math computations. 
Prolonged dehydration causes brain cells to shrink in size and mass, a condition common in many elderly who have been dehydrated for years.
WE ARE REPLACING WATER (LIFE) WITH SHIT (DEATH)
Sparkling Water Industry

2021 - $33.43 B Industry and expected to $77B Industry by 2028. 
Carbonic Acid effects the gut

Alcohol Industry 

2022 - $1.5T and $2.8T in 2028
Inflames the brain, causes brain fog

Coffee Industry 

2020 - $450B
So far, not much evidence suggest this increases dehydration

Soft drinks 

2021 - $400B
Kills you period 

Juice

2023 - $115B
Too much sugar and toxins

Energy Drinks 

Gives you short term effects of focus, but long term negative side effects, inflammation (from sugar), poor sleep (Harvard School of Public Health), headaches (caffeine causes the blood pressure around our brain to drop by up to 27%, affecting the amount of tension you feel), increase blood sugar levels. 
SOLUTION 
"I Don't Like Water" is like saying, "I Don't Like Air." 
Make water more accessible 
Carry a water bottle with you at all times
Drink water first thing when you wake up
Filter you water (Tap water has contaminants) 
FIND US ON
https://thefocuscast.com
https://www.instagram.com/thefocuscast
https://www.tiktok.com/@thefocuscast
#focus #dream #stayingmotivated