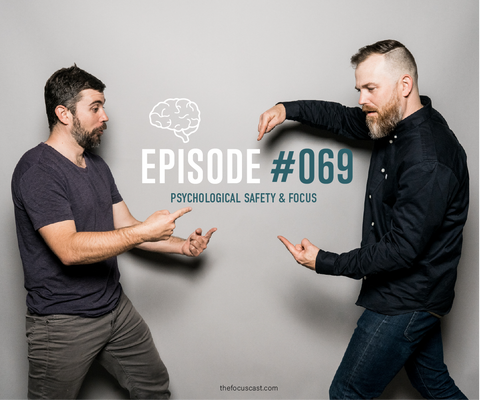 #69 Psychological Safety & Focus
 Not feeling safe consumes an enormous amount of energy, personally & professionally. Psychological Safety "The belief that one can speak up without risk of punishment or humiliation" which is critical and profitable when creating a healthy work environment, today we talk about this on a personal and professional level with some steps you can take to create a Psychological Safe work environment. 

00:44 Music Intro 
00:54 Podcast Intro 
01:37  What is Psychological Safety
02:40 HBR Article 
07:29 4 Stages of  Psychological Safety
16:30  Psychological Safety with Yourself 
18:00 Providing Psychological Safety
Watch: 
Listen:  

HBR ARTICLE "What Psychological Safety Looks Like in a Hybrid Workplace"
"The belief that one can speak up without risk of punishment or humiliation" 
WHY IS PSYCHOLOGICAL SAFETY A THING?: 

"In the past, we've approached "work" and "non-work" discussions separately. 
Joint decisions about hybrid work are increasingly being made between managers and employees, allowing them to discuss topics such as child care, health-risk comfort levels, and family challenges. 

THE RESULT OF PSYCHOLOGICAL SAFETY? 

"When psychological safety in the workplace is present, people feel comfortable bringing their full, authentic selves to work and are okay with "laying themselves on the line" in front of others.
STAGE OF PSYCHOLOGICAL SAFETY 
The 4 Stages framework for psychological safety, authored by Timothy Clark
Inclusion Safety: the ability to belong in a group, feel safe being yourself, and be accepted for who you are
Learner Safety: the ability to learn and grow by asking questions, giving & receiving feedback, experimenting, and even making mistakes.
Contributor Safety: the ability to make a difference by using your skills and abilities to make a meaningful contribution.
Challenger Safety: the ability to make things better by speaking up and challenging the status quo when there is an opportunity for improvement.
HOW DOES PSYCHOLOGICAL SAFETY APPLY TO SOLOPRENEURS?
If you don't have a mentor group, you are often left in your own head to ask these questions? In Episode #24, we talked about the inner critic… that might be a dangerous place where you DON'T feel safe. 
If you have a mentor group, is it a place where you can be safe to be honest, ask questions, learn, contribute and challenge? 

Toxic family or group of loser friends… 
HOW DOES PSYCHOLOGICAL SAFETY APPLY TO FOUNDERS?
Research from PricewaterhouseCoopers has shown an average of 230% return on every dollar invested in creating a mentally healthy workplace as measured by organizational outcomes such as improved productivity, lower volume of compensation claims and reduced absenteeism.
Gartner Research, Gallup, & Harvard Business Review, January 2017

27% reduction in turnover, 76% more engagement, 50% more productivity, 74% less stress, 29% more life satisfaction, 57% workers more likely to collaborate, 26% greater skills preparedness
STEPS TO INCREASE PSYCHOLOGICAL SAFETY FROM QUANTUM WORKPLACE
Promote self-awareness.
Demonstrate concern for team members as people.
Actively solicit questions.
Provide multiple ways for employees to share their thoughts.
Show value and appreciation for ideas.
Promote positive dialogue and discussion.
Explain reasons for change.
Own up to mistakes.