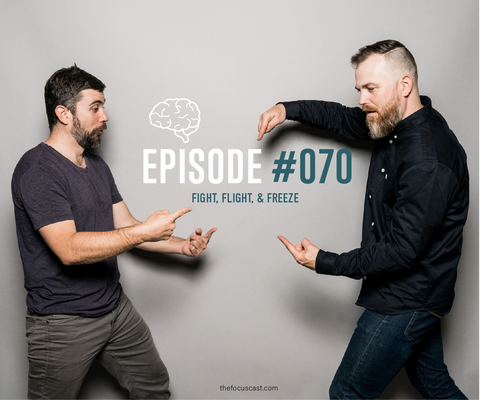 #70 Fight, Flight, or Freeze
Bro, I was talking to my therapist, and she mentioned the vagus nerve, which is responsible for the fight, flight and freeze response to stress. Really, in this episode, we will talk about the freeze response to stress, why you should be aware of this response, and why I was talking to my therapist about it.
01:00 Music Intro 
01:55 NCBI Article  
03:40 Freeze Response in Humans 
05:55 The Brain in a Freeze State
10:09 Freeze Response & Stress
14:09 Bryan Elaborates on Therapy  
20:15 Talking Trauma 
24:30 Interacting with People in Freeze States
Watch: 
Listen: 
NCBI, Exploring Human Freeze Responses to a Threat Stressor 
"Fight or flight" was coined by Cannon (1927) 
FREEZE RESPONSE IN ANIMALS
Tonic immobility may be useful when additional attacks are provoked by movement or when immobility may increase the chance of escaping, such as when a predator believes its prey to be dead and releases it.
POSSUM EXAMPLE: Well literally allow themselves to be eaten by another animal 
FREEZE RESPONSE IN HUMANS
In the Guilford Press in 2002,  Barlow's description of an adaptive alarm model suggests that a freeze response may occur in some threatening situations.
This literature suggests that a relatively high percentage of rape victims feel paralyzed and unable to act despite no loss of consciousness during the assault.
NICABM: Many times, we see a freeze in response to childhood trauma
THE BRAIN DURING FREEZE STATE
NICABM: When we're dysregulated – whether that be in hyper or hypo arousal – our prefrontal cortex – which allows us to think critically – goes offline, while our limbic system – which drives survival behavior by responding to threat takes over.
What this means is that any information going into the brain – sensations, words, movements – can't be processed in a logical, cognitive way.
Like all trauma responses, freeze is an involuntary response.
WHAT DOES THE FREEZE RESPONSE TO TRAUMA HAVE TO DO WITH US? 
Do you ever feel so overwhelmed by stress, you literally can't move? 
Introspective work: childhood trauma
Why were you talking to your therapist about this bro? 
SOLUTION
Get help
How to Overcome the Freeze Response, NICABM

Avoid making eye contact: maybe too intrusive. 
Don't offer touch: my feel violating 
Make sure to ask for permission: trauma is that it strips people of choice and control
Work at a slow, gentle pace
Don't mistake a loss of speech for unwillingness to speak: they may be stuck and literally not able to speak. Don't mistaken for unwillingness to cooperate. 
Stay away from trying to "convince the nervous system" that it's safe: The prefrontal cortex is offline, instead: According to Polyvagal Theory, humans communicate with each other via their social engagement systems – or our vocal intonation and facial expressions. So by using calm prosody and inviting body language, we can impart cues of safety.
Keep affective expression to a minimum: positive emotion might actually be associated with threat. People have experienced mixed queues from abusers (positive, then negative) 
Make it clear that going into freeze is NOT a negative thing: It is purely a stress response and has nothing to do with their strength or lack thereof.