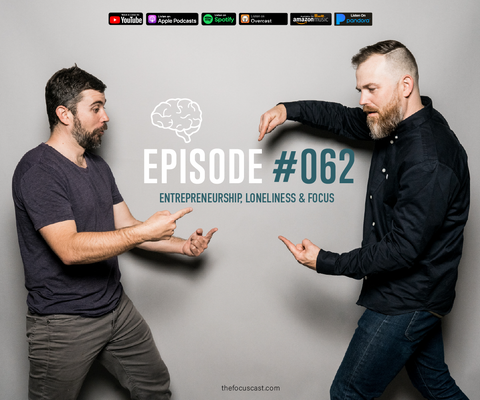 #62 Entrepreneurship, Loneliness & Focus
Bro, social media and the internet love to romanticize being an entrepreneur, but guess what conveniently gets overlooked? Loneliness. Weather you're just starting out or trying to make payroll for 500 people, loneliness is something MANY entrepreneurs feel at some point on their never ending journey. On this episode we're talking about the parts of entrepreneurship you don't see glamorized. 

00:00 Intro to Loneliness and Focus
00:54 Intro to Podcast
01:20 What is Loneliness
02:20 Effects of Loneliness
05:17 CEOs are Lonely
05:45 Stages of Entrepreneurial Loneliness
13:00 Expectations of Success and Loneliness
14:00 Solution to Loneliness
WATCH


SHOW NOTES

PROBLEM: So what the fuck is loneliness exactly? 
Feeling sad and unhappy about being socially isolated.
Destitute of sympathetic or friendly companionship
Potential health effects from loneliness CDC: 
Social isolation significantly increased a person's risk of premature death from all causes, a risk that may rival those of smoking, obesity, and physical inactivity.
Social isolation was associated with about a 50% increased risk of dementia.
Poor social relationships (characterized by social isolation or loneliness) was associated with a 29% increased risk of heart disease and a 32% increased risk of stroke.
Loneliness among heart failure patients was associated with a nearly 4 times increased risk of death, 68% increased risk of hospitalization, and 57% increased risk of emergency department visits.
According to a story in Harvard Business Review, half of CEOs from the CEO Snapshot Survey reported experiencing feelings of loneliness in their role.
Stages for Entrepreneurship & Loneliness: Forbes 
The Solopreneur: Me, Myself And I 
When an entrepreneur hones in on their first business, they often feel like they're on an island with no one to talk to about their business. Friends and family try, but they usually don't understand why an entrepreneur is pouring themselves into a project
Enter Your First Employees
Traditional wisdom says that when a business and team (also known as support) grow, loneliness subsides. With employees, an entrepreneur isn't "on their own" anymore. Technically, that's true. But practically, that's not the way it works. Entrepreneurs can talk to their employees about business — but only so much.
Finding Some Success 
Entrepreneurs in growth stages will navigate many types of relationships, and sometimes it gets sticky even when things are going well. Growth was slow at first but you've put in the time and hard work and things are starting to click. This is when human nature can rear its ugly head, and people may start becoming jealous of your accomplishments. 
You've made it, now what?
When you get to the seven-figure stage, things look like an overnight success from the outside, while the entrepreneur feels the reality of "the 10-year overnight success story." 
Unfortunately, there's another side effect: Everybody seems to have an agenda. Whether it's family, employees or people in the community, entrepreneurs get tapped for a lot

SOLUTION:
Reference the long study about meaningful relationships. 
Find like minded individuals
Self Reflection 
You may be distracting yourself with bad or even good habits. Learn to sit in silence and meditate. 
Connect with nature
FIND US ON 
https://thefocuscast.com
All Podcast Streaming Platforms
https://www.instagram.com/thefocuscast
https://www.tiktok.com/@thefocuscast
#focus #solopreneurs #loneliness